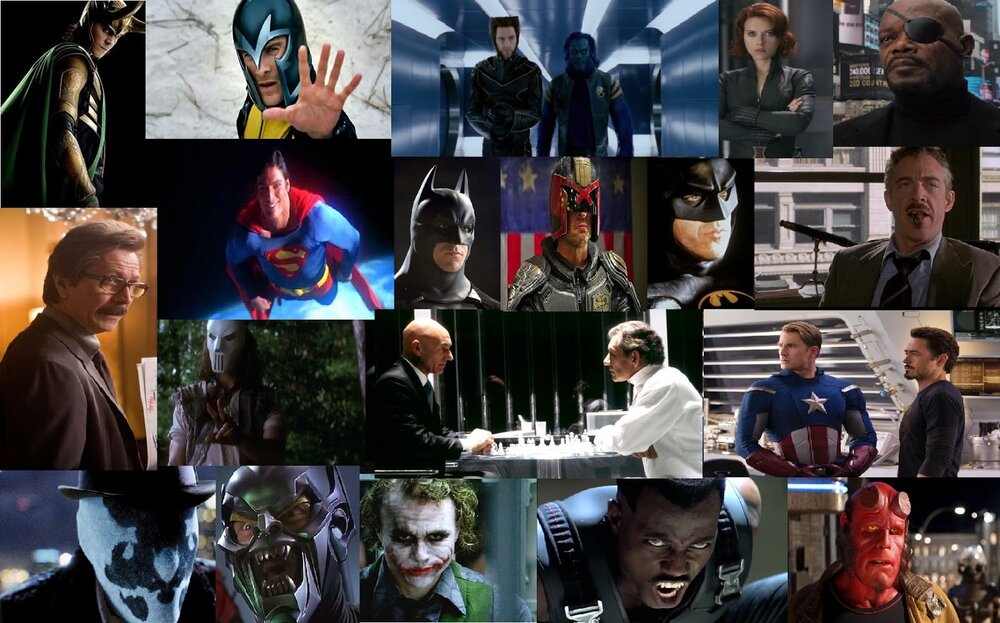 The 30 Best Superhero Movies of All Time (2020 Edition)
We live in a time when superhero movies are at their peak popularity. Here we've made up a list of The 30 Best Superhero Movies to watch! 
#1 Superman
Superman is one of the great movies that truly stands the test of time. It took nearly 25 years for a film to reach its combination of romance, humor, and gee-willikers superpowers. The daring Salkinds, thoughtful Puzo, talented Donner, and endearing Reeve, collaborated in some filmmaking alchemy that resulted in the magic, sparkling, audio-visual gem. The makers of Superman brought to bear their maximum creative forces to produce it! 
#2 The Dark Knight
The Dark Knight is an entertaining movie with thrilling actions. It's a brilliant observation of the ambiguity of justice, and the thin line between good and evil. Nolan gives the audience a rich crime thriller that explores the hidden darkness within each of us and our deceptive obsession with rules.
#3 Batman
This movie is a game-changer for 1989 influencing high concept movies up to this day. Without a doubt, the pop-cultural importance of Tim Burton's Batman can't be overestimated. One could make the argument that it is one of the most important blockbusters of all time next to Star Wars and Jaws.
#4 Iron Man 
Intensely exciting, with Iron Man, you can have a look into the depths. Versatile, attractive, and gifted actor Robert Downey Jr. gives a terrific performance as Tony Stark. It is full of action, drama, and humor. Any moment something intriguing may happen! You can't keep your eyes off the screen, just like when you're visiting the CSGO Betting tournament 🙂 
#5 Guardians of the Galaxy
This movie was also a blast for Marvel in 2014. It's an adventure comedy with clever dialogue and a memorable cast of characters. There's an important MacGuffin that ties into the larger story, but it's just there to drive the plot along. The tone is very unique, bouncing between comedy and genuine drama.
#6 Logan
This movie differs from what we usually see in any comic book movie. Logan marks the end of an era and could have easily served as the last chapter of the entire X-Men cinematic universe. It's not just one of the best superhero movies – it's a damn-fine cinematic representation of the human condition in all its agonizing forms. 
#7 Deadpool
Loud, inventive, and outrageous Deadpool is a delight. It's a voraciously self-aware comedy. What sets Deadpool apart is its overall genre-busting tone, which blends a wealth of meta-humor, the wisecracking Reynolds' significant skills with a one-liner, and a genuinely funny script that isn't afraid to offend anyone.
#8 Black Panther
It fulfills most demands of a superhero movie! Its style and messages are joyful and groundbreaking. It's hard not to dive into the technologies, characters, and politics which create dramatic conflict.
#9 Captain America: The First Avenger
Captain America: The First Avenger is a thrilling superhero flick, with plenty of action, solid special effects, pleasant characters, and a decent but bland story. The movie is stylish and spectacular. Moreover, it's based on history and human emotions. 
#10 The Incredibles
Touching character moments and visually exciting action sequences make The Incredibles a classic superhero movie. Legendary wit, marvelous scenes, family warmth, and slapstick comedy makes The Incredibles even more entertaining. This movie has a rare quality and feels modern, classic and entertaining at the same time. 
#11 Thor: Ragnarok
Thor: Ragnarok is one of the most unusual of the Marvel movies, because of its crazy, colorful, and hilarious journey through the cosmos. Thor: Ragnarok manages to ridicule myths and entertainment which are part of the movie.
#12 Spider-Man 2
A masterpiece of pop filmmaking — an exciting, exuberant entertainment that manages to be both sleek and substantial without being patronizing.
#13 X-Men
Bryan Singer's X-Men was one of the first films to bring together a load of comic book superheroes and did it fantastically. It's a pleasant little trip down memory lane. It is not a classic like Spider-Man or Blade but it is still an engaging watch as it dives into the themes of prejudice and the relations between Mutants and Mankind. It is a solid movie and it could be used as a good introduction to the franchise.
#14 Aquaman
Aquaman is a must-watch movie as well. The movie is filled with nail-biting moments. Aquaman is a very attractive character, a funny mixture of a superhero personality! 
#15 Joker
Joker can be called the darkest and most tragic story in all of the DC universe. The film is an excellent story of origin, departs from comics, and allows you to see the psychology of the character. It also has enough similarity with the current era which is quite well-reflected. 
#16 Avengers: Endgame
The movie is an outstanding ending to an epic saga. The action scenes are cool and have enough twists in the plot to keep it from becoming predictable. Emotional, electrifying, so much heartthrob, and definitely worth the three hours. If you've been with the series all along, then you are guaranteed to cry during the movie!
#17 Shazam!
Shazam! is the rare comic book movie that will appeal to everyone, from families to cinephiles. The plot keeps you on your feet. The characters are well introduced, especially Shazam's and the supervillain's origin story. This movie is really fun and loyal to its source material!
#18 Captain America: Civil War
Captain America: Civil War is about friendship and vengeance, which split the Avengers into two, and force the superheroes to make a choice on whose side to take. The movie has a justifiable villain and amazing fight scenes!
#19 X-Men: Dark Phoenix
The story of X-Men has always been complex, poignant, and thought-provoking. It is about a community of mortals, gifted with superpowers, who struggle with emotions, morality, and difficult choices just like ourselves. It's also fun, entertaining, and takes the core of the Dark Phoenix saga elements, and makes a great job adapting them.
#20 Dredd
A nice simple action movie. With a remarkably light budget, it's very very stylish and easy to follow the story. It was dark, it was gritty, it was complex enough to keep you interested but focused enough to not throw you off and get too distracted.
#21 Hellboy II: The Golden Army
Hellboy 2: The Golden Army is a stunning improvement of Hellboy. With the obviously beautiful visuals, director Del Toro contributes deeper into the plot and characters, resulting in one exhilarating film. A reasonable must-watch!
#22 V for Vendetta
V for Vendetta is an excellent example of a movie based on a novel. The story is deeply involved in the movie, as well as the characters and their significance.V for Vendetta feels like a personal vendetta against today's government.
#23 Guardians Of The Galaxy Vol. 2
The humor in this movie is unrelenting. While the first part was fresh and breathtaking, this reveals its characters' nature. Be ready to follow the plot carefully, considering how much action is going on.
#24 Doctor Strange
Watching Doctor Strange, you'll find yourself engaged with the humor, action, bright imagination, and thrill in every scene. The movie has a captivating plot with enough serious notes. The action and effects add a unique flavor never seen before in a Marvel movie.
#25 Spider-Man: Homecoming
This film brings back the youthfulness and fun that we all enjoyed in the Spider-Man cartoons as children. A more immature version of the famous superhero, that is an enjoyable ride of self-discovery, adulthood, and classic "save the day" action.
#26 Spider-Man: Far from Home
The movie with wonderful action, an absolutely hilarious script, brilliant performances, and a plot that manages to be both a solid follow-up to Avengers: Endgame, and also an entertaining high-school romance-comedy. It's funny and engaging with plenty of twists and turns, along with likable characters that you really care about.
#27 Unbreakable
An adult version of superhero movies for those that find Marvel and DC movies childish. It's atmospheric, intriguing, well-acted, and directed with skill and patience. At times it can even be emotionally powerful. The elements of unpredictability create moments of sheer awe.
#28 Blade
Excellent movie if you are in the mood for destruction and violence against bad guys. Here filmmakers weren't afraid to get more experimental in their approach. That's why you are not likely to find a superhero movie this dark and bloody.
#29 Captain America: The Winter Soldier
The movie has a well-written story, action and fight scenes, and some interesting new characters. It's definitely worth seeing, even if you aren't a typical Marvel fan. It may even feel like some gripping spy or political thriller movie. 
#30 X-Men: Days of Future Past
The movie gives a very positive and constructive message, but in a way that is believable and sincere. Great X-Men movie with a smart plot, genius storylines to tie up loose ends!
---
ABOUT THE AUTHOR
Karl Murphy is a professional journalist from Des Moines, Iowa. After obtaining his Master's degree, he's launched his career and over its course, Karl was contributing to the popular publications for men. He's passionate about eSports, so now he develops his blog csgo-bettingsites.com.